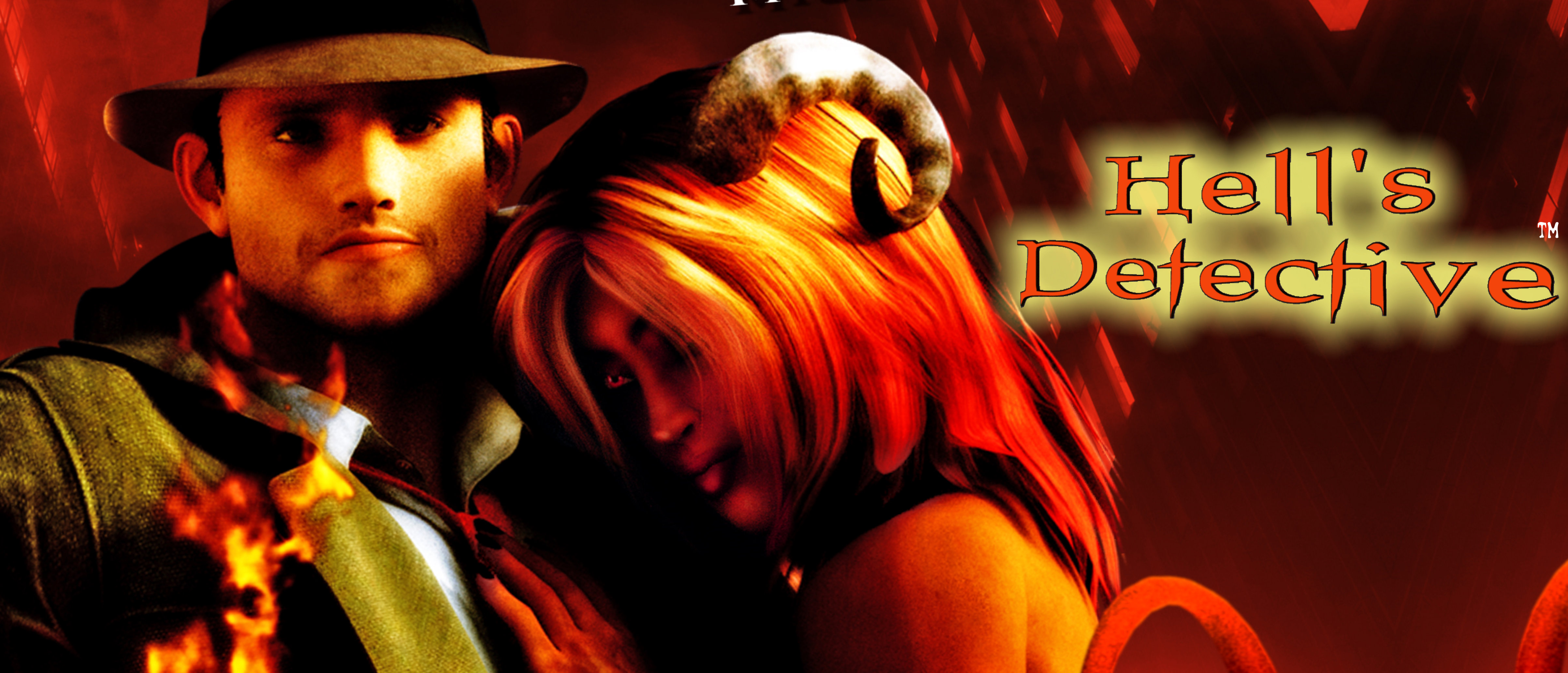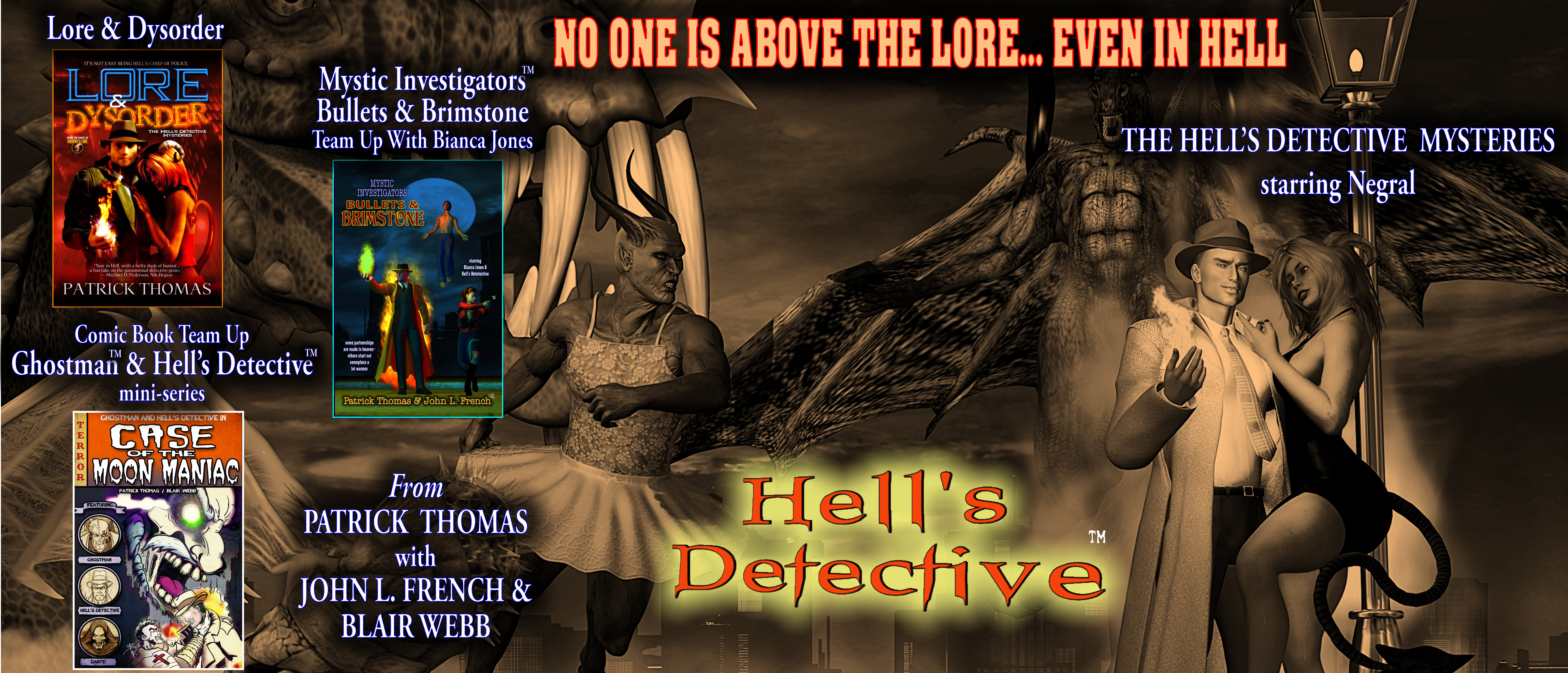 Hell's Detective Mysteries
No one is above the Lore... Even in Hell!
Negral is a forgotten Sumerian god who was in danger of fading away to Oblivion. The Devil offered him a alternative-to become Chief of Police in Hell.
These are his stories.
LORE & DYSORDER
NO ONE IS ABOVE THE LORE… EVEN IN HELL.
His believers long dead, the Sumerian deity Negral was faced with Oblivion when the Devil made him an offer-become Chief of Police of Hell's Secret Police. Even forgotten gods don't want to die so Negral took the job. Now he's a cop on the toughest beat in the Afterworlds having to deal with a tutu-wearing pink demon, a virginity seeking succubus, a bad cop, a demon-possessed zombie, the greatest betrayer in human history, his ex-wife and the Devil himself.
Bullets & Brimestone
a Mystic Investigators book starring Hell's Detective & Bianca Jones
In Baltimore, crime is hell. And in Hell crime is far worse. When a soul goes missing in Charm City, the Devil wants his due and Negral, forgotten god and Hell's Detective, comes looking. When his own methods fail, he calls on Detective Bianca Jones despite the animosity between her and his boss. Together they search for his soul. In the process, Negral unwittingly a disciple and is forgotten no longer and forced to choose between honor and power. When an old enemy manages to make Negral disappear into the inside of a locked door mystery, the pair must work the case from the inside and out before the forgotten god fades away to oblivion.
The Case of the Moon Maniac
A Ghostman/Hell's Detective Graphic Novel Crossover
     When he was alive, Albert Fish was known as the Werewolf of Wysteria, the Brooklyn Vampire, the Boogey Man and the Moon Maniac. A rapist and cannibal with over 100 claimed victims, he was eventually sent to the electric chair and his soul claimed by Hell.

     Ghostman, half lost soul, half fallen angel, all monster, was created to banish the very terror he unleashed from Hell itself. It is because of him that Fish is loose again in the mortal world.

     Negral, a forgotten Sumerian god, has taken the thankless job of being Hell's Chief of Police. Hell's Detective wants the serial killer back in the Pit before he can take any more innocent lives. Unfortunately, that means getting Ghostman's help.

Can these two manage to work together long enough to put a killer back in Hell?

THE COLOSSAL COMIC BOOK  TEAM-UP COLLECTED AT LAST!!!
Buy from Fantastic Books
Praise for Hell's Detective:

"Dark… and charming."
– Ellen Datlow, The Best Horror of the Year Vol. 4

"Thomas weaves impressive, and occasionally hilarious, dark world-building… RECOMMENDED"
-Wendy S. Delmater, ABYSS & APEX

"Gritty, snappy, very dark and very funny,"
-J. L. Comeau,  Creature Feature

"As always, Thomas spins a good yarn—noir in Hell, with a hefty dash of humor… a fun take on the paranormal detective genre. "
-Michael D. Pederson, Nth DEGREE

"If paranormal that mocks the darkness is your cup of tea, check (Bullets & Brimestone) this out." – Wendy S. Delmater, ABYSS & APEX

"Bullets and Brimstone… is a very entertaining paranormal mystery that showcases the writing powers of both authors to their utmost… a fun & exciting read I highly recommend to anyone who loves reading paranormal mysteries and urban fantasies."– Douglas R. Cobb, Bestsellersworld.com

"The Case of the Moon Maniac is literally the team-up from Hell. Pat Thomas's Negral and Blair Webb's Ghostman are the perfect pair to track down a should-be-dead serial killer. Laughs, action, and some really weird stuff await you in this book."
   —John L. French, Author of the Bianca Jones supernatural investigation stories.