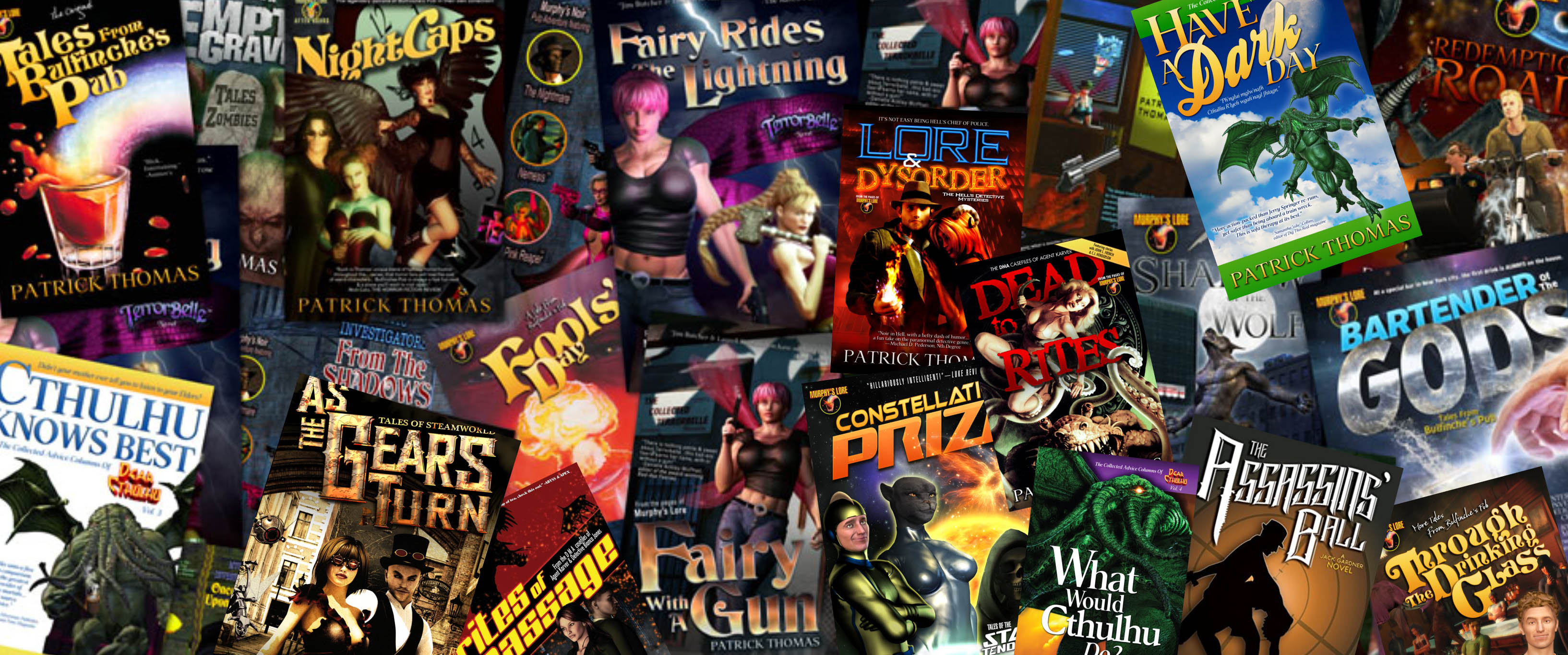 What Do You Like To Read?
     That's what I'm likely to ask you if you stop by my table at a con. If you don't like to read, then this site is probably not for you. It's okay, you can go. No hard feelings. But if you do like to read, boy have you come to the "write" place - yes I know it should be right, but I do enjoy the word play. I am a writer. Allow me to introduce myself.
     I'm Patrick Thomas and I've written almost forty books and been in over fifty anthologies and more than forty magazines. I've been writing for over 20 years. Surprised you've never heard of me? Yep, I get that a lot. But let's see if we can't fix that, shall we?
    First, let's go back to my question when you got here - what do you like to read? Chances are I've written something you might like.
   Like humor? You're in luck.
      I write the beloved and humorous Murphy's Lore urban fantasy series. It takes place at Bulfinche's Pub in NYC. Owned by a leprechaun named Paddy Moran who bought it with his pot of gold, so rainbows tend to lead people in trouble there to get help from the likes of Dionysus who's one of the bartenders. Or Hercules - he's the bouncer. Or any one of the patrons who range from gods from all pantheons to cursed cabbies, drunk psychics, werewolves, vampyres and everyday New Yorkers. Not to mention the wisecracking, but very human bartender John Murphy who narrates the tales. In Startenders, the story fast forwards about 30 years and the crew goes out into space, but not in starships. They do it in barships.
      Like your humor a little more dark and twisted? Then Dear Cthulhu is for you. The elder one is dispensing his wisdom to the masses of humanity and he is hilarious. If you love Cthulhu and enjoy laughing then give it a try. Don't know who Cthulhu is? Not to worry. It's not a necessity. All you need to know if that a vastly powerful, inhuman monster is giving advice to those that can't or won't ask Ann Landers or Dear Abby and it is twisted and funny.
     Is mystery more your cup of tea? For the traditional mystery lovers, try Assassins' Ball. A husband and wife PI team go undercover at a convention to solve a murder. There's one huge problem - it's a convention for assassins and hitmen, so literally everyone is a suspect. And I co-wrote it with John L. French who is a CSI supervisor for a big Eastern city with over 40 years experience.
    Prefer your mystery with a side of magic? Make room on your shelves or on your e-reader.  The main problem will be figuring out where to begin.
    Mystic Investigators started out as one book with 11 different investigators in it and became a series. From The Shadows takes us back to the pulp era where Nemesis, John French's The Nightmare teams with my Nemesis and the Pink Reaper to take on villains in the grand pulp style up to and including the god Zeus. In Once More Upon A Time, Diane Raetz and I tell the adventures a modern day witch who works as a security consultant and takes on Fables, fairy tale entities who force people to act out their stories. It can end only in death and destruction or happily ever after. Guess which one the witch is fighting for?
     Then there's Terrorbelle, half-pixie/half-ogre and all attitude. Lives in Hell's Kitchen and fights big bads in her neighborhood and at her job at Nemesis & Co. She's got 2 books - Fairy With A Gun and Fairy Rides the Lightning where she goes to Valhalla to prove Thor's been framed for murder and try to stop Ragnorak. Fairy With A Gun had even been optioned by Laurence Fishburne's Cinema Gypsey Productions for film and TV. It didn't happen, but how many people are lucky enough to say that the man who played Morpheus liked their book?
     We can't forget Negral, better known as Hell's Detective, a forgotten Sumerian god who's Chief of Police in Hell. Tough gig. He's got 3 books - Lore & Dysorder, Bullets & Brimstone (also part of Mystic Investigators and teams him with John French's Bianca Jones) and The Case of the Moon Maniac, a graphic novel that teams Negral with indy comic book legend Ghostman, and his creator Blair Webb.
     Hex is cursed. Literally. He is potentially the most powerful mage in the world, but it causes him pain to use magic. And he can't use it unless he's asked. Cuts down on the possibilities. Hex has been a big part of the Murphy's Lore books and finally has his own book By Darkness Cursed. And his 2nd book By Invocation Only is due on in 2018.
     Vince Argus is the Soul For Hire, a hitman who sold his soul to the Devil but only kills those he deems deserving. His book is the aptly named Greatest Hits. And one of the stories in it - Act of Contrition - was made into a short film by Top Men Productions which will be making the rounds on the film festival circuit.
     Karver was a demon possessed serial killer. The demon was exorcised and now he works as a federal agent for the Department of Mystic Affairs to make up for the people the demon killed. He's got 2 books Rites of Passage (again teaming with John French's Bianca Jone. Boy, we sure do write together a lot.) and Dead To Rites.
     But you say you're into science fiction. Perfectly all right and understandable. Good stuff that SF.  I've got a couple of titles to offer.
     Twenty years ago my first novel came out and now it's coming back in a 20th-anniversary edition in both hardcover and trade. Exile & Entrance is the story of Rick Wagner, a man who tries to do the right time and is sold into indentured servitude by his government and ends of dropped into the outer space equivalent of professional wrestling. Only there's no scripts and the fighting and dangers outside of the arena are real.
     And last but far from least is As The Gears Turn. It's set on Steamworld, a steampunk themed playworld aliens have set up so they can watch humans in the ultimate reality show because it is real and most people don't even realize what's going on.
     I also did a couple of books in The Wildsidhe Chronicles, a YA where 300 kids and part of their town are transported to a world where magic and danger are very real and there are no grown-ups to help them. Think Lord of the Flies meets Harry Potter.
     And I edited New Blood (with Diane Raetz), Hear Them Roar (with the late, great and much missed CJ Henderson) and the upcoming Camelot 13 (again with that John French guy. It'll be the 5th book in the Padwolf 13 series. And many moons ago I used to be an editor for Fantastic Stories of the Imagination and Pirate Writings magazines and a contributing editor for Dig This Real.
     So take some time and browse around my site to check out the books in more detail.  I hope there's something you like and you are kind enough to give it a try. And stop by every so often. I'm always writing and there's a podcast of the horizon too. A fun, entertaining one. Which will include Dear Cthulhu. Feel free to drop me a line on the contact page. And follow me on social media using the buttons on the top of the page.
     Thanks for stopping by.